theScore: Sports News & Scores
Free
von theScore
Rubriken: Sports, News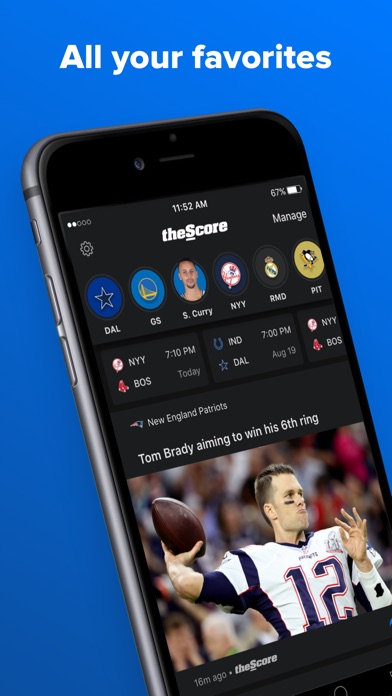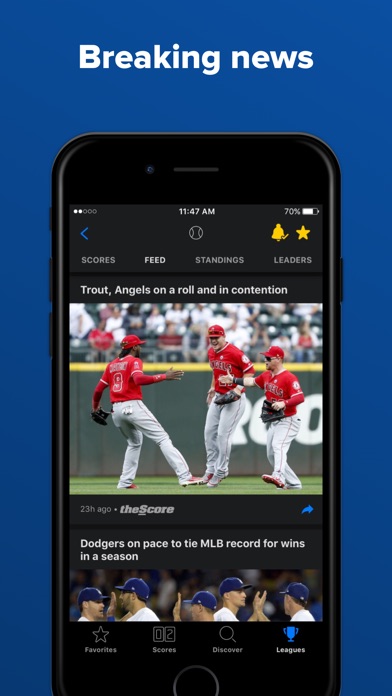 theScore is the ONLY sports app you need for real-time scores, stats, alerts, and news from NFL Football, MLB Baseball, NBA Basketball, NCAA Football, NHL Hockey and all major sports and competitions!
NFL, MLB, NBA, NHL, PGA, MMA and more ? build a personalized ?Favorites? feed of content from your top football, hockey, baseball, and basketball teams, players and leagues, as well as every major competition. Use our ?Discover? section to uncover the biggest stories and topics that have sports fans talking!
REASONS TO USE THESCORE
1. Sports news: All in one place ? live news, stats and results!
2. Scores and alerts: Ultra fast with the latest and deepest stats!
3. News coverage across all major sports leagues & events: football, baseball, basketball, hockey and many more!
Results, alerts, stats, and videos are on your phone in an instant. theScore is lightning fast, loaded with stats and totally customizable.
Stats, real-time scores, and news across these major sports:
- Football (NFL Football, NCAA Football and CFL Football, regular season and playoffs)
- Baseball (College World Series and MLB Baseball, season play and playoffs)
- Basketball (NBA Basketball, NCAA Basketball - including March Madness championship and playoffs)
- Hockey (NHL Hockey, IIHF WJHC - World Junior Hockey Championship, NCAA Frozen Four)
- Soccer (Premier League Soccer, Champions League, FIFA World Cup, Serie A, La Liga, Bundesliga, MLS, FA Cup, League Cup, Europa League, Ligue 1, Coppa Italia, Copa Del Rey and Liga MX, UEFA European Championships)
- Golf (PGA, LPGA, Ryder Cup, European Tour, Web.com Tour)
- Tennis (ATP, WTA), with the US Open coming in August
- Mixed Martial Arts (MMA: UFC and Bellator)
- Auto Racing (NASCAR Sprint Cup, Formula 1)
Lacrosse (NLL)
NFL, MLB, NBA, NHL, PGA, MMA and more ? download theScore today and always be on top of sports scores and live news!
For more information and other apps visit: http://company.theScore.com.
If you're experiencing any issues at all or have feedback we can help. Contact us via ?Report a Bug? in the Settings menu or email us via thescoreapp@thescore.com. We can also help on Twitter via @theScoreHelp.
Want to be a Beta tester and help us make the best sports app even better? Visit: https://www.thescore.com/beta
--
We are affiliated with theScore.com
Privacy Policy: http://www.thescore.com/pages/privacy
Terms of Use: http://www.thescore.com/pages/terms
---
AppStore DE
Rubrik Sports
AppStore US
Rubrik Sports