Capital One Wallet
Free
von Capital One
Rubriken: Finance, Utilities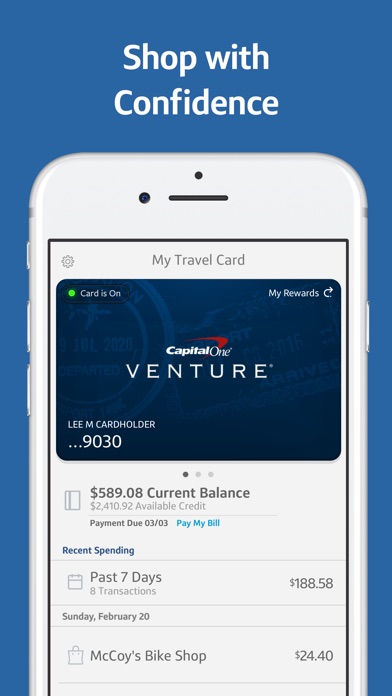 Effortlessly save money and shop savvier with the Capital One Wallet, a shopping companion to the Capital One Mobile app.
Get notified about discounts at stores you love when Capital One finds you a relevant discount. Browse nearby discounts wherever you are. Digitize your gift cards to have them handy for purchasing. Temporarily lock your card if it?s lost or misplaced. Stay organized and be ready for checkout by storing your loyalty cards in Wallet.
SAVE MONEY
- Find discounts at stores you?ve shopped at and love, and redeem coupons using your phone.
- Get discount notifications when you are shopping in a store.
- Receive notifications to use your loyalty or gift cards while shopping.
- Redeem your rewards for past purchases with a statement credit.
STAY ORGANIZED
- Store your loyalty and insurance cards to have them handy wherever you are.
- Digitize your gift cards, track your balances, and pay using your phone.
- View your card balance, recent transactions, and available credit ? all at a glance.
- Sign in easily using Touch ID® or SureSwipe®.
CHECK OUT FASTER
- Set up Apple Pay and authorize payment devices for your eligible Capital One debit and credit cards, including Quicksilver® and Venture®.
While you?re at it, download Capital One Mobile?  to manage your credit cards, bank accounts, home and auto loans anywhere, anytime, from one place on your iPhone or iPad. Check account balances, pay bills, view payment activity and transaction details, set up notifications ? and lots more.
We look forward to hearing your feedback at wallet@capitalone.com.
NOTES
- Capital One Wallet requires iOS 9 or above.
- Capital One Wallet and Apple Pay are not currently available to customers of our partner cards. Capital One Bank and Capital One 360 debit card customers can use Capital One Wallet to receive real-time notifications and view account balances and transactions. Second Look is not available for all Capital One cardholders or partner cards.
- If you enable gift card reminders, continued use of GPS running in the background may dramatically decrease your battery life. We?ve optimized to keep battery use efficient, but if you notice this issue, you can turn off gift card reminders at any time.
- Apple, the Apple logo, and iPhone are trademarks of Apple Inc., registered in the U.S. and other countries. Apple Pay and Touch ID are trademarks of Apple Inc.
---
AppStore US
Rubrik Finance